environment.
The real estate and construction sector is, from the global viewpoint, the most CO2- and energy-intensive sector. Consequently, it is clear that ecological aspects play a key role in all our decisions. Our commitment to timber construction, the special attention we give to renewable energies and energy efficiency as well as our focus on green building certification are an expression of this conviction.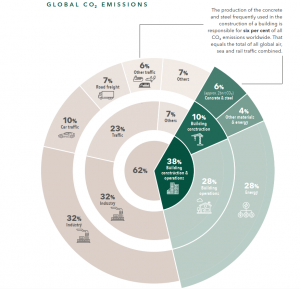 future-oriented real estate development.
As a real estate developer, we design the living space of the future – and that means we also design the environment. Real estate development is not only our core business, it also gives us the greatest leverage to significantly reduce our carbon footprint. UBM directly addresses the ecological impact of its activities in all project phases with a constant focus on environmental protection and the careful use of resources.
Our activities concentrate on the following areas:
Energy efficiency, renewable energies and CO2 emissions
Durability and recyclability of materials
Ground sealing, climate change and biodiversity
Refurbishment and revitalisation
Healthy building materials and the quality of life
we measure our locations based on their footprint.
In addition to our development projects, we want to make our own business operations more sustainable. UBM has office space at 15 locations. Our goal in this area is to steadily reduce our ecological footprint. Relevant activities to reach this goal involve energy consumption and emissions. The efficient use of water and correct waste management are also important issues for UBM and are internally managed and reported.
fewer standing assets.
The strategic focus of UBM's business activities involves the development and sale of properties. Accordingly, the number of standing assets has been steadily reduced since 2015. UBM also takes action to support sustainability in these properties – here, the key issue is whether the properties are rented and UBM therefore only has an indirect influence on energy consumption and emissions, for example through the use of energy-saving lighting or efficient heating and cooling solutions.
ubm corporate carbon footprint.
The Corporate Carbon Footprint provides an overview of a company's direct and indirect greenhouse gas emissions in tonnes of CO2e along the entire value chain.
We collected our first complete CCF for the 2022 reporting year. The results are presented in accordance with the requirements of the science-based Greenhouse Gas Protocol (GHG Protocol) and the Guide to Scope 3 Reporting in Commercial Real Estate. The entire process of creating the CCF was supported by external experts, including a review of completeness, correctness and GHG Protocol conformity in accordance with ISO 14071.
Based on the CCF, we can identify potential for improvement and measure progress in achieving our targets. Details on our targets, measures and key figures in the area of ESG can be found in the ESG report. We have also submitted to the Science Based Targets Initiative in order to develop ambitious, science-based climate targets and a GHG reduction pathway.
green lease framework.
The UBM Green Lease Framework is designed to show configuration options in the areas of energy, waste, water consumption, mobility and cleaning, and to make it easier for all those involved to achieve sustainable building use and management. One fundamental prerequisite here is cooperation, where the parties involved work together in open and trusting collaboration.
A green/sustainable rental agreement can provide numerous benefits for all parties involved. Despite financial savings owing to lower energy and operating costs, this allows commercial tenants in particular to implement their corporate sustainability strategy and goals more efficiently. The advantages for lessors especially include lower vacancy rates and higher attractiveness for their building, as a sustainable property for tenants and investors. Even today, many investors are choosing their investments with environmental, social and governance factors (ESG) in mind. These factors go beyond legal requirements and contribute towards sustainability, and they are expected to become standard in the foreseeable future. Real estate that does not correspond to these criteria will likely be at a competitive disadvantage in future, and investor demand will decrease.
iso certificates.
The corporate units in Austria (AG and UBM Austria), Germany, the Czech Republic and Poland are certified under the following internationally recognised norms:
environmental management norm ISO 14001
energy management norm ISO 50001
The certificates can be downloaded from the following links: