environment.
The real estate and construction sector is, from the global viewpoint, the most CO2- and energy-intensive sector. Consequently, it is clear that ecological aspects play a key role in all our decisions. Our commitment to timber construction, the special attention we give to renewable energies and energy efficiency as well as our focus on green building certification are an expression of this conviction.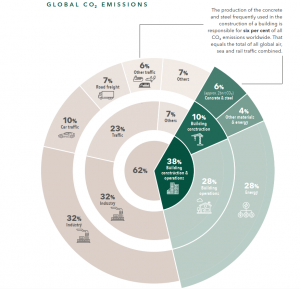 future-oriented real estate development.
As a real estate developer, we design the living space of the future – and that means we also design the environment. Real estate development is not only our core business, it also gives us the greatest leverage to significantly reduce our carbon footprint. UBM directly addresses the ecological impact of its activities in all project phases with a constant focus on environmental protection and the careful use of resources.
Our activities concentrate on the following areas:
Energy efficiency, renewable energies and CO2 emissions
Durability and recyclability of materials
Ground sealing, climate change and biodiversity
Refurbishment and revitalisation
Healthy building materials and the quality of life
we measure our locations based on their footprint.
In addition to our development projects, we want to make our own business operations more sustainable. UBM has office space at 15 locations. Our goal in this area is to steadily reduce our ecological footprint. Relevant activities to reach this goal involve energy consumption and emissions. The efficient use of water and correct waste management are also important issues for UBM and are internally managed and reported.
fewer standing assets.
The strategic focus of UBM's business activities involves the development and sale of properties. Accordingly, the number of standing assets has been steadily reduced since 2015. UBM also takes action to support sustainability in these properties – here, the key issue is whether the properties are rented and UBM therefore only has an indirect influence on energy consumption and emissions, for example through the use of energy-saving lighting or efficient heating and cooling solutions.
iso certificates.
The corporate units in Austria (AG and UBM Austria), Germany, the Czech Republic and Poland are certified under the following internationally recognised norms:
environmental management norm ISO 14001
energy management norm ISO 50001
The certificates can be downloaded from the following links: